Affiliate Commission
NogaBet provides affiliates with a highly rewarding tiered revenue share commission structure and referral program. Commission is earned on a monthly basis by referring players to our casino through a unique affiliate ID given to you after signing up. Through this ID we track the number of clicks, downloads, registrations, deposits and gameplay of a player to calculate your affiliate commission. NogaBet Affiliates provides easy to use marketing tools to get you on your way to making the most out of your site.
Compensation Plan
We want to give you the best possible start to earning well with NogaBet Affiliates.
What this means is that for the first 3 months, you will receive 50% Commission Guaranteed after which the normal Tired Commission Structure will resume.
Here is how our Tiered Commission Structures work.
Percentages are of Net Revenue: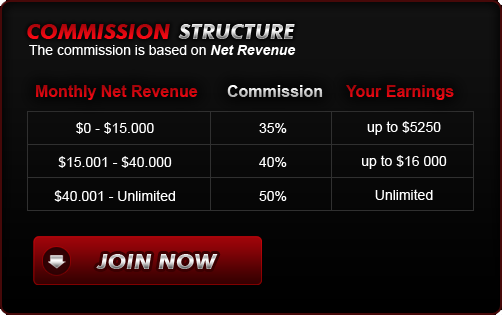 Please Note:
To qualify each month for the 3 months 50% Commission, affiliates are required to bring at least 1 unique depositing player per month. Affiliate's will be put on 35% commission should this not occur.